We are having many conversations with our clients about what they can do to mitigate the negative impact they are experiencing from COVID-19. Below, you will find a growing list of resources to help your hotel tackle these revenue generating challenges:
Distribution
Revenue management
Guest management
Digital marketing
Check back frequently to find new updates.
---
Access the report!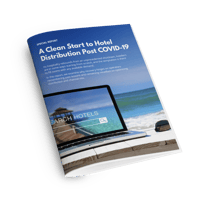 "A Clean Start to Hotel Distribution Post COVID-19"
---
Checkout it out!
Knowland Recovery Dashboard
---
Loss of staff, limited know-how, no budget, what's a hotel do about marketing amid a pandemic? Katie Hokin gives us some tips.
Expedia Partner Recovery Program. Will hoteliers take advantage?
Bianca Porto Barga, former VP of Distribution, Performance, and Membership for Luxe Collection, saw the COVID-19 storm coming out of Asia in December. She lays out for us some tactics she unfortunately was unable to execute with her hotels, before the senior leadership team was let go. But, good stuff. Check it!
Amy Ogden, co-creator of www.wetravelforward.com, explains the benefits her site is giving hoteliers to promote special offers.
Clip 1. How are hotels going to compete with the current advantages of vacation rentals brought on by COVID-19? A hotel's cancellation policy? Exterior entry or corridor? Cleanliness guarantees? 10 local restaurants delivery vs eating-in every meal? Social distant entertainment, like we are seeing in Sweden? And, how could we get through a chat without mentioning Google? We couldn't.
Was all set to talk to Scott Ward about the re-opening of his hotel when his owners called the night before to tell him they made the difficult decision to remain closed amid COVID-19. A tough but candid discussion with good advice for hoteliers.
In clip 1 Becky Rogers, IDM Hospitality Management's VP of Operations, lets us in on the difficulty of managing the new normal with a group of independent, boutique hotels. But, their flexibility--and fortitude!--are making it happen.
In clip 2, Becky tells us what she's been doing in preparation for travel's rebound.
We talk with Andressa Chapman, Founder, Trigger Hotel Marketing, on what hotel marketers are doing and could be doing in preparation for travel's rebound. One thing she sees often, is the disconnect between what the revenue director is doing and what is happening with the media spend.
Blogs
STR COVID-19 Data
CARES Act webinar
More Videos
Clip 2. Is Google going to be a winner amid and post COVID-19? Charlie thinks so. "They've improved their commission model and have the benefit of the integration with Google Maps, which positions them at the starting point of search." There a few things they must wrestle with though.
Clip 1. Nicole is seeing OTA's getting their fair share of bookings during the COVID-19 crisis. Charlie sees hotels falling into two buckets coming out of the crisis: 1. Opportunists - Never before have guests spent so much time on hotel websites, and never before has there been such a high risk of cancellations. 2. Cautious - Understandably freaked out with budget cuts, nervous about spending marketing dollars, so let the OTA market their hotel. While Andrew sees hotels struggling with the customer service from OTAs and Google along with a lack of in-house marketing budget and skill set. All three see maintaining a mix of channels is important. Guests:
Full-length interview. Governments around the world are loosening restrictions brought on by COVID-19 and party boys are booking. On mobile. Hear other trends from Nicole, Andrew, and Charlie as they talk about the current travel searches and bookings they are seeing.
Clip 1. Ariela Kiradjian, Partner and COO of The Boutique Lifestyle Leaders Association, talks with me about how the boutique hotels are holding up, how they've pivoted to generate revenue.
Clip 2. Ariela gives us some insight on whether or not boutique hotels will be clamoring to join brands amid the fallout of COVID-19 or will they remain independent and creative.
SHR's CEO, Rod Jimenez, gives us an update on the positive booking signs we are seeing from our clients, and much more.
Director of Revenue Management, Colette Barrs, sees a slight pickup in BAR and discount channels from her 379-room hotel in Monterey Bay.
Glenn Haussman talks about what he's seeing from hotel execs that have been joining his live show over the past month or so, and much more.
Hotels are generating cash amid the negative impact of COVID-19 by selling bonds through the ingenious creation of Rachel Harrison and her cohorts, www.buynowstaylater.com.
Tanya Stallard talks about what it's like in London and how hotels there are staying visible in preparation for travel's rebound.
Sandro talks about the state of hotels in Barcelona, how they are positioning themselves, how they are thinking about pricing and how revenue management systems (RMS) will have to adjust.
Triptease CEO, Charlie Osmond, talks numbers from Asia--mobile, domestic, short lead time, and a few tips on what hoteliers could do in preparation of recovery--marketing to these types of guests and planning a new distribution mix..
Zsuzsanna Albrecht comes to us from Germany with a few tips on what hoteliers can do now with their websites and booking engines. Follow her on LinkedIn or visit her website at zahc.info.
Clip 1 of an interview with Kelly McGuire, former SVP of Revenue Management at MGM Resorts & Casinos. Full-length interview below.
Clip 2 of my interview with Kelly McGuire. What should revenue managers be doing now? Kelly suggests professional development and business process improvement. Full-length interview below.
Full-length interview. I chat with Kelly McGuire, PhD, former SVP of Revenue Management at MGM Resort about what revenue managers should be doing now in anticipation of recovery from the negative effects of COVID-19. From watching trends to reviewing processes to communication with peers and much more.
Catching up with Nicole Adair, SHR's Director of Revenue Management Services, to talk about what revenue managers should be doing now that there's not much booking going on at all.
With the recovery beginning in Asia, what does that mean for hotels? Andrew Warner and Ian Kemp break it down for us.
Allegra Medina, Director of Product, Maverick CRM, and former Director of CRM at Red Lion Hotels, walks us through considerations during the fallout from COVID-19. For instance, tell your most loyal customers, upcoming and most recent guests, what is happening on your property. And, much more.
Andrew Warner and Ian Kemp cover what hoteliers could be doing with their booking engine, i.e., anything that speeds up path to booking, and valuable add-ons, etc.
Andrew Warner and Ian Kemp cover what hotels should consider regarding communicating their policies and procedures, i.e., more than a homepage pop up, changing policies across thousands of reservations will take back-end system changes and have someone on point to monitor the ever-changing guidance from governmental entities.
In our 2nd clip from our conversation with Andrew Warner and Ian Kemp, we talk about refining a hotel's digital marketing strategy, like not turning off PPC, keep focus on brand terms, and much more.
This is clip covers how hotels can combat the negative effects COVID-19 by focusing on domestic travel. Google data shows people are searching for upcoming vacations and special occasions. Many are looking for staycations or somewhere within driving distance. My guest: Andrew Warner, CMO, Digital Hotelier, and Ian Kemp, Director Client Success, SHR.
SHR's Director of Revenue Management, Nicole Adair, has a few tips for combating the fallout from COVID-19.
Client Success Manager, Jessica, joins Jason to chat about why metasearch continues to be a great option for independent hotels.
SHR's VP of Marketing, Jason Emanis, talks OTAs and a proper channel mix for independent hotels with Matt Braddy.